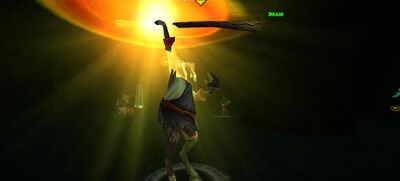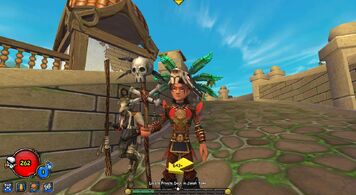 Kan Po - Goat Student
is the starting companion for Witchdoctors. His first power is critical strike, which has a 100% chance of a Critical Strike, and his first ability is Riposte which attacks the enemy if he succesfully blocks their attack. He is a goat from MooShu.
Promotion
Edit
His first promotion occurs in Monquista, at level 13. After his promotion he will become a Goat Disciple and will be able to learn 2 new abilities (you choose these) and he will learn the power Rouse which minorly heals a team member.
His second promotion occurs in Mooshu at level 49. After the promotion, he becomes a Goat Master and will able to learn the ability Rally, which is like Rouse, but does major healing over 3 turns.
Miscellaneous Information
Edit
There is another goat student that is available for all players with a purchase at the crowns shop under the companions tab, he is called Keisuke Yagi - Goat Student, he has the same powers and abilities as Kan Po. He is the counterpart of Kan Po, just as all other tutorial companions have counterparts.
He is gained during the tutorial, or, if you skip it, after the tutorial.
Kan Po is a Swashbuckler, and he uses a staff for his weapon.